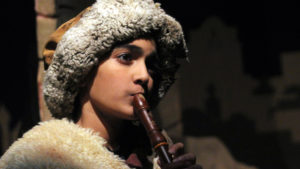 Auditions for LONJ (Light Opera of New Jersey's) upcoming Fall 2018 and Spring 2019 Productions of

Menotti's AMAHL AND THE NIGHT VISITORS
and
Mozart's COSI FAN TUTTE


Audition Dates:
Saturday, September 22, 2018 from 2 – 5 pm:  BOTH operas
Wednesday, September 26, 2018 from 7 – 10 pm:  BOTH operas
Saturday, September 29, 2018 2 – 3 pm Boys auditioning for the role of Amahl
Saturday, September 29, 2018 1 – 2:00pm: Dance auditions for Amahl
Saturday, September 29, 2018 3 – 5:00pm: BOTH operas
Auditions are open to REGISTERED singers only
Please contact
info@LONJ.org
to register for one of the above dates, and include your head-shot, resume and home town.
Auditions will be held at
St. Mark's Episcopal Church
140 S Finley Ave
Basking Ridge, NJ 07920

Accompanist will be provided. There is a $10 accompanist fee.
Performances and Rehearsals will be in Basking Ridge, NJ
Performance Dates
AMAHL November 30 and December 1, 2018
COSI April 12 and 13, 2019
Executive Producer: William Corson           Artistic Director: Lauran Fulton Corson
Menotti's Amahl and the Night Visitors  will be presented with chamber orchestra
November 30 and December 1, 2018
Stage Director: Joanna Hoty Russell
Music Director: Lois Buesser
Choreographer: Beth Amiano Gleason

Amahl* [a crippled boy, about 12]    Boy Soprano: C4 – A5
His Mother                                             Lyric Soprano or High Mezzo: A3 – A5
King Kaspar [slightly deaf]                 Tenor [buffo tenor]: C#3 – G#4
King Melchior                                        Baritone: B2 – E4
King Balthazar                                       Bass: E2 – E4
The Page                                                 Bari-Tenor: Db3- E4
*Two singers for this role will be cast – to sing alternate performances. No females will be cast in this role.
Chorus of Shepherds and Villagers: SATB + Youth Dancers (a teen boy and a teen girl)

Please sing an aria from the opera, or a selection from another Menotti opera or an aria in a similar style, in English.
Dancers: Wear clothes you are able to move/dance in. Please prepare short song [in English] that shows your range.
Principal rehearsals will begin in late October.  Singers from NJ preferred.
Mozart's Cosi fan tutte will be presented in English with nine-piece orchestra
April 12 and 13, 2019
Stage Director: Dorothy Danner
Music Director: Jason Tramm

Fiordiligi, Lady from Ferrara and sister to Dorabella.   Soprano (A-C)
Dorabella, Lady from Ferrara, sister to Fiordiligi           Soprano or High Mezzo (E flat-A flat)
Despina, the sisters' maid                                                    Soprano or High Mezzo (D-A)
Guglielmo, lover of Fiordiligi, a soldier                             Bass (C- E)
Ferrando, lover of Dorabella, a soldier                              Tenor (F-B flat)
Don Alfonso,                                                                           Bass Baritone (A#3-Eb4)

There is no chorus but qualified singers may be hired to cover roles.

Please sing an aria from the show, or another aria in English.  Also bring something in English from opera or operetta.
Rehearsals will begin in March 2019.  Singers from NJ preferred.