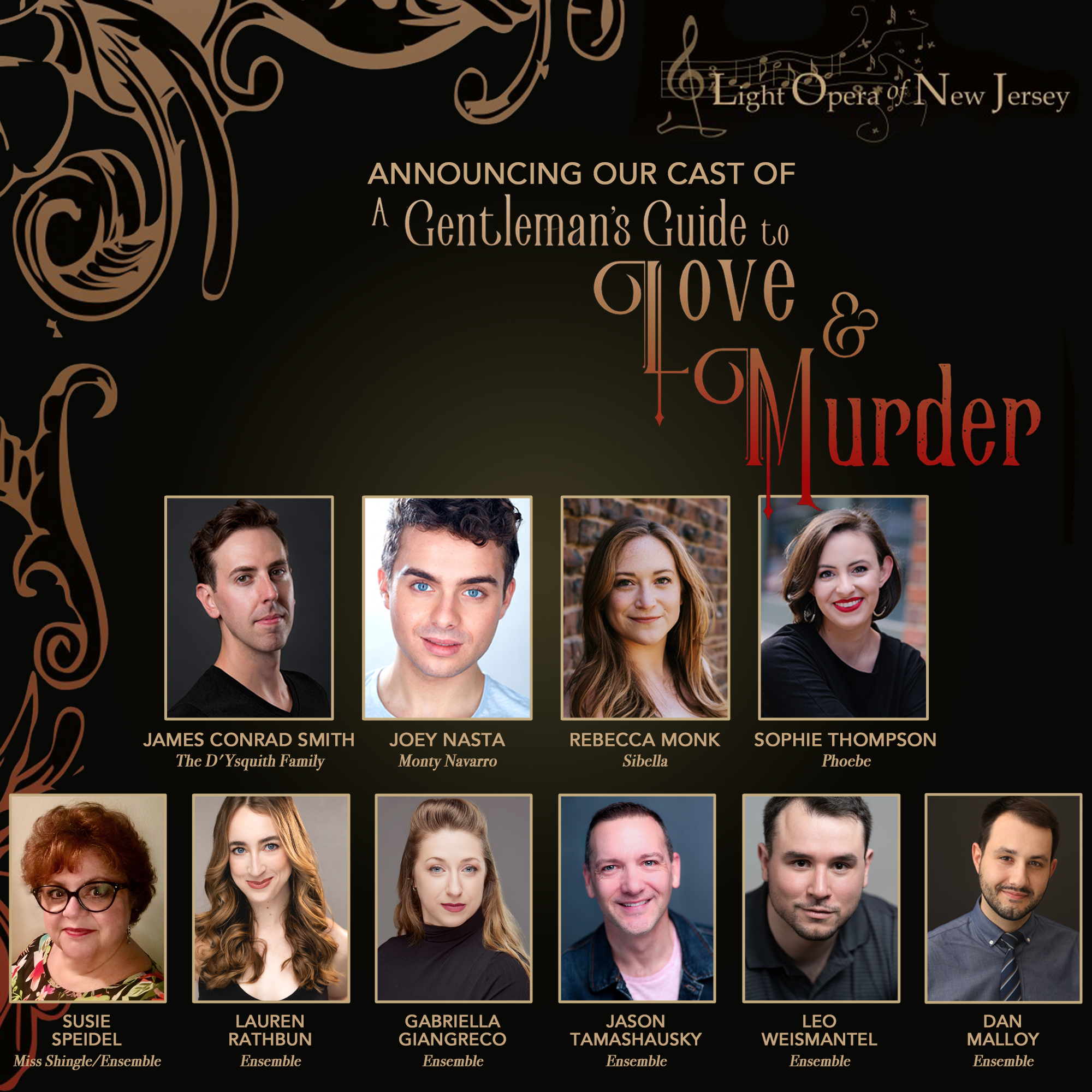 A Gentleman's Guide to Love and Murder at the South Orange Performance Arts Center
in South Orange, NJ
July 15 and 22, 2023 – 8 PM
July 16 and 23, 2023 – 2 PM
Light Opera of New Jersey continues its 27th Season of operetta and musical theatre with a production of 2014 Tony award-winning A Gentleman's Guide to Love and Murder, based on the 1907 novel Israel Rank: The Autobiography of a Criminal by Roy Horniman.

Joseph Hayward directs the production with Griffin Strout as the musical director, Matthew Lynady as choreographer, CJ Howard, Scenic Design, and Jason Tramm as Executive Producer.

Experience Steven Lutvak's and Robert Freedman's Tony Award-winning operetta this summer at the South Orange Performing Arts Center! A Gentleman's Guide to Love and Murder is the knock-'em-dead, uproarious hit and the most-nominated show of the 2014 season.

When the low-born Monty Navarro finds out that he's eighth in line for an earldom in the lofty D'Ysquith family, he figures his chances of outliving his predecessors are slight and sets off down a far more ghoulish path. Can he knock off his unsuspecting relatives without being caught and become the ninth Earl of Highhurst? And what of love? Because murder isn't the only thing on Monty's mind….

With non-stop laughs, a unique and soaring score, and unforgettable characters, A Gentleman's Guide to Love and Murder has become an instant classic.
Don't miss out on all the madcap mayhem.
Get your tickets today!
Tickets Starting at $45, Special Student Rate Also Available
Order through June 1 and get a 10% Early Bird Discount
Use Code "GentlemanlyBird"