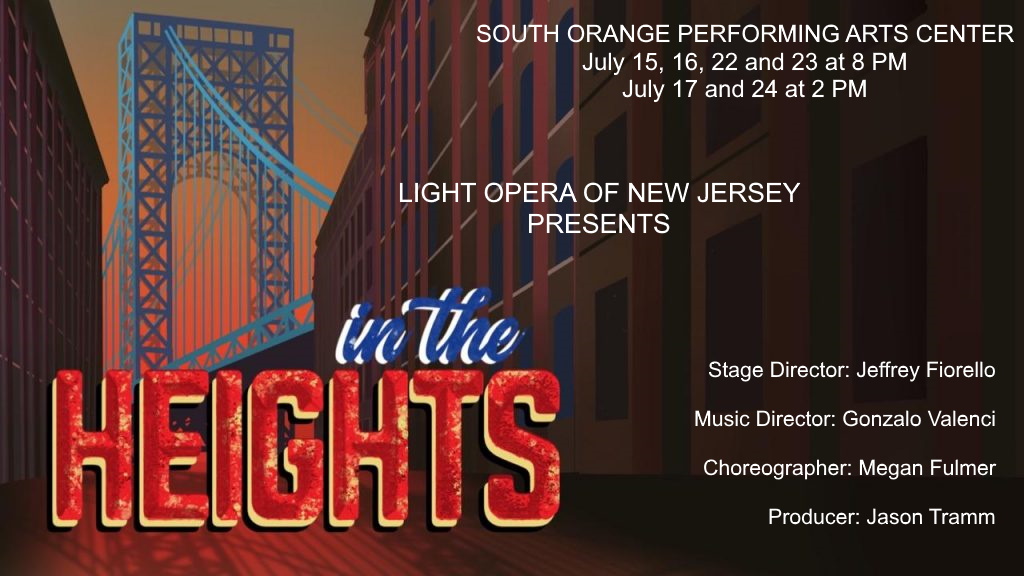 Audition Dates
Wednesday, Mar. 12, 2022 from 9 am – 1 pm
Saturday, Mar. 19, 2022 from 10 am – 2 pm

Callback Date
(by invitation only)
Saturday, Mar. 19, 2022 from 10 am – 2 pm

Performance Dates
July 15, 16, 17, 22, 23 & 24, 2022
Auditions are by REGISTRATION ONLY thorough our online registration system that will open by Jan. 27, 2022.  Auditions, rehearsals and performances will be held at South Orange Performing Arts Center (SOPAC), 1 SOPAC Way, South Orange, NJ 07079. Accompanist will be provided. Singers from New Jersey preferred.  Those previously cast for roles in our canceled production in 2020/2021 will automatically be advanced to the Callback round, but you must still register online.
In The Heights Character Breakdown
NINA: Female – 19 (20 – 30). Latina (Puerto Rico). High Soprano Belt A3 to F5. Daughter of Kevin & Camila Rosario. A Freshman at Stanford University. Very Bright, sweet. Feels that she has let everyone down, because she is dropping out of school. Typical "good girl", who becomes more rebellious when she gets into a romantic relationship with Benny. Emotional and conflicted, but still the "star" of the neighborhood. Demanding role / lots of singing. Non Dancer.
USNAVI:   Male – 20's (20 – 32).  Latino (Dominican).  Bari-Tenor D3 to G4.  Rapper/Singer. Youthful, awkward, sincere Dominican. The narrator of the play's exposition.  He is the owner of a small bodega in Washington Heights (De La Vega Bodega).  Has a crush on Vanessa. Moves well.   Mover.
VANESSA: Female – 19 (20 – 30). Latina. Mezzo-Sporano / High Belt F#3 to E5. Usnavi's love interest. Works at Daniela's salon. Very attractive. Has a troubled home life, wishes to get out and into something better. Dancer.
BENNY: Male – 20's (20 – 32). African-American. Tenor / Belt E3 to Ab4. Singer / Rapper. Usnavi's good friend. Works at Rosario's Taxi Dispatch for Nina's father, Kevin. Strong, smart, ambitious. The only character in the play who does not speak Spanish. Falls in love with Nina. Mover.
"ABUELA" CLAUDIA:  Female (55 – 70).  Latino (Cuban).  Alto / Belt F#3 to C5.  An immigrant who moved to the US from Cuba in 1943.  The sweet, caring and supportive matriarch of the neighborhood. Raises Usnavi after his parents die. A wise character with strength, & passion.  A powerful actress, singer / storyteller. Non Dancer.
DANIELA:  Female 30s (30 – 45).  Latina (Puerto Rico).  Mezzo-Soprano / Belt G3 – C5.  The sassy, owner of the local hair and nail salon.  Quick witted, gossip.  Bold and Loud, but with a heart of gold.  Actress with great comedic timing. Mover.
KEVIN: Male – 40's (40 – 55). Latino (Puerto Rico). Baritone C3 – E4. Kevin Rosario is Nina's overprotective father. Hard worker, who wants to provide a better life for his family, than the one he had growing up in Puerto Rico. Owner of Rosario's Car and Limousine. A strong actor. Non Dancer.
CAMILA: Female – 40's (40 – 55). Latina (Puerto Rico). Alto / Belt. G3 – B4. Nina's mother, and along with her husband Kevin, the co-owner of Rosario's Car and Limousine. Smart, and caring, strong willed, straight talker. Typically tolerant of Kevin's control issues, but reveals her real feelings. She is the glue of the Rosario family. Non Dancer.
SONNY: Male – late teens (16 – 25). Latino. Tenor G3 – Bb4. Rapper / Singer. Usnavi's sassy, superficially lazy, yet ambitious younger cousin who works with Usnavi in the bodega, and was also raised by Abuela Claudia. Typically a jokester, but has an intelligent / thoughtful side that yearns for social justice. Mover.
CARLA:  Female – 20's (20 – 30).  Latina (Chilean, Cuban, Dominican and Puerto Rican descent).  Soprano / Belt.    Works at Daniela's salon along with Vanessa.  Close friends with Daniela.  Young and Pretty, but a little slow to get a joke.  Ditzy. Dancer.
PIRAGUA GUY:  Male 40s.  (35 – 50).  Latino. Tenor D3 – A4.  The owner of a small piragua stand. The town-crier.  Charismatic. Non Dancer.
GRAFFITI PETE:  Male – late teens (16 – 25).  Latino (but can be any ethnicity).  Baritone.  Rapper / Singer.  Young, slick graffiti artist of the neighborhood. Friends with Sonny.  Slightly shady, but with a good heart.  Dancer (featured dancer).
ENSEMBLE:  6 Men and 6 Women (20 – 45).  Residents of Washington Heights.  Strong Singers / Dancers (Dance in multiple styles – Latin / hip hop).