Announcing Auditions for LONJ's upcoming production of A Gentleman's Guide to Love and Murder
Directed by Joseph Hayward
Show Dates: July 15, 16, 22 and 23, 2023
Location: South Orange Performing Arts Center, South Orange, NJ
Preliminary Auditions: April 13 and 17, 6 PM to 10 PM in Basking Ridge, NJ
Callback Auditions: April 22, 10 AM to 5 PM in South Orange, NJ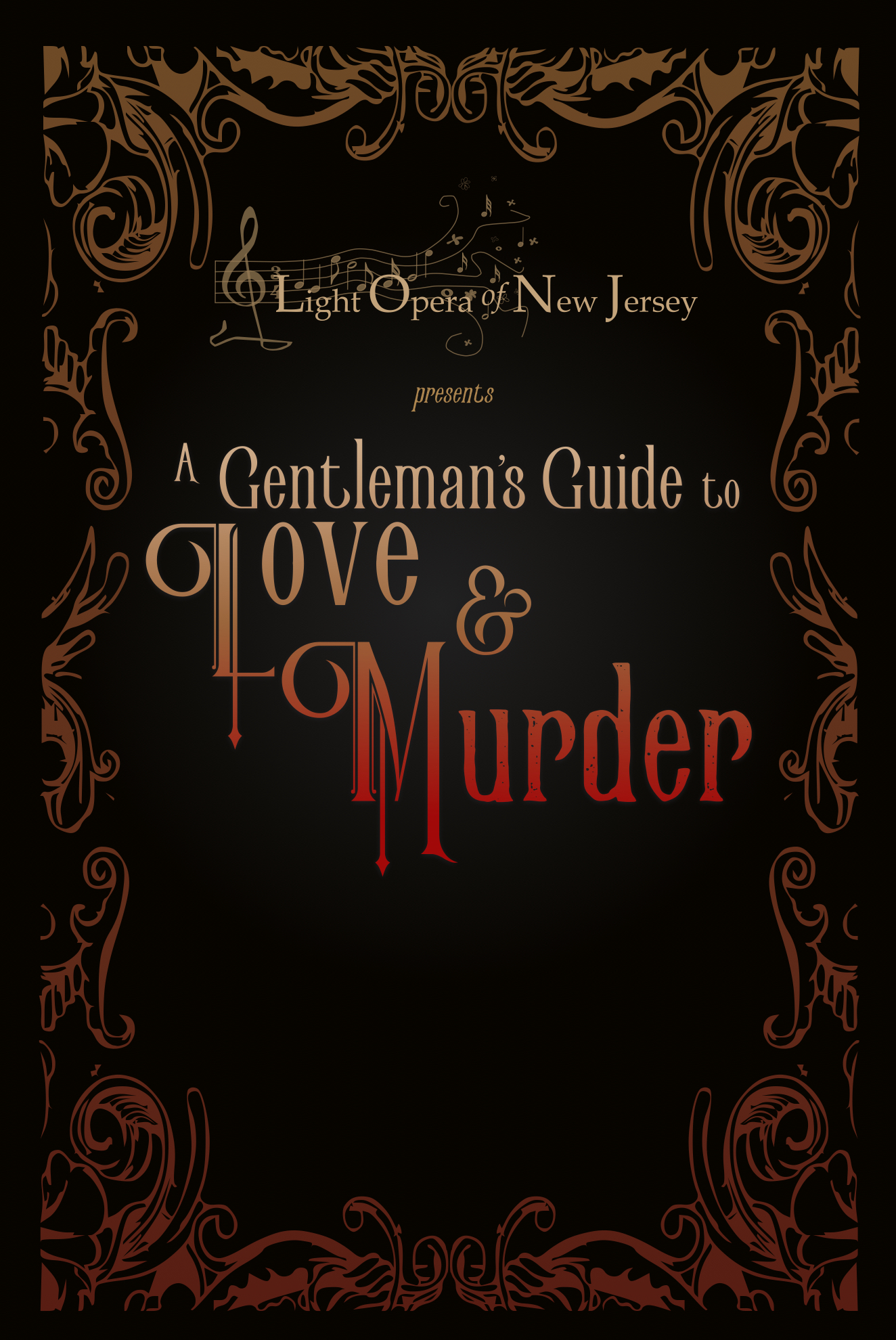 In-person Preliminary Auditions: Please prepare two contrasting 16 bar cuts in the style of the show (you are welcome to choose a song from Gentleman's Guide). Bring suitable sheet music for the accompanist. We will provide an accompanist, or you may bring your own. You may be asked to stay and read. There will be no dance call at the auditions.
Virtual Preliminary Auditions: Please provide a link to a video of you performing two contrasting 16 bar cuts in the style of the show (you are welcome to choose a song from Gentleman's Guide). Additionally, you should read the sides for the role you'd like to be considered for.
Callback Auditions: We will contact those who are being invited to the Callback round to arrange an audition time. Callback auditions will be held in South Orange, NJ on April 22 from 10 AM until 5 PM. Callbacks will be in-person only, not virtual.
Exact locations for auditions will be emailed to you after you register.
If you will be unable to attend our callback auditions in person on April 22 between 10 AM and 5 PM, please do not register for a preliminary audition.
If you have any questions, please contact john.lamb@lonj.org
A Gentleman's Guide to Love and Murder Character Breakdown with Preliminary Audition Sides

THE D'YSQUITH FAMILY (30s –mid 50s). Side1   Side2   Side3
Must be an experienced, skilled, and transformational comedic actor who has a superb grasp on British farce. Must have strong physical comedy and stamina and the ability to make extraordinarily quick costume changes. Plays the following range of characters from the same family, ranging from an off-kilter priest to a closeted bee enthusiast to a lowly custodian (each of them intrinsic "English types"). Vocal range B2-F4.
Asquith D'Ysquith, Jr., a dandy
Lord Adlabert D'Ysquith, Eighth Earl of Highhurst
Reverend Lord Ezekiel D'Ysquith, a clergyman
Lord Adlabert D'Ysquith, Sr., an elderly banker
Henry D'Ysquith, a country squire
Lady Hyacinth D'Ysquith, a benefactress
Major LordBartholomew D'Ysquith, a bodybuilder
Lady Salome D'Ysquith Pumphrey, an actress
Chauncey D'Ysquith, a janitor
MONTY NAVARRO (Mid 20s–30s). Side1   Side2
Handsome and effortlessly charming, clever and charismatic, vulnerable and endearing, with a highly developed appreciation for life's ironies.  Monty is the engine of the plot; must be able to command attention and draw the audience in. Discovers he is in line to become the Earl of Highhurst, and intends to kill off the family that stands in his way. While he is intent on killing off the entire family tree, he must have a winning charm that would garner anybody's trust. Must have excellent comedic timing, vocal variation, and physical skills. Legit Baritone. A2-A4.
SIBELLA (20s–mid 30s). Side1
Sexy, flirtatious, narcissistic, willful girl that Monty loves – calculating, and irresistible. A social climber, yes, but also truly loves Monty, and in the end would do anything to protect him. Tremendous wit and high style. Strong mover. Character mezzo, F#3 to A5
PHOEBE
(Early 20s–early 30s).
Side1
Beautiful, virtuous, forthright, romantic, comically earnest, with a backbone of steel. Monty's young poised virtuous cousin (and potential wife). She is not your typical ingénue, though. Actress must have a sense of irony and humor, in addition to a youthful innocence behind her sophistication. Coloratura soprano, range B3 up to a high sustained C#6 with an optional high Eb6. Very flexible and agile. Also open to performers from a strong operatic background.
ENSEMBLE:
Side1   Side2   Side3   Side4

Voice types: Legit soprano, Tenor, High/Low Baritones. All should have decent to great movement/character physicality.
Please note, character assignments subject to change.
WOMAN #1 (30s –50s). Plays MISS SHINGLE, a Cockney housekeeper/governess who has served a wealthy, titled family for 30 years. She informs Monty that he is indeed a D'Ysquith. Storytelling is paramount for her role. Also plays TOUR GUIDE, as well as PUB OWNER'S WIFE, MRS. PEBWORTH, 3RD NEWSBOY. Seeking a character woman. Mezzo soprano, G3 to A5.
WOMAN #2 (30s–late 40s). Plays LADY EUGENIA, an unhappily married countess. Overbearing and mean spirited at times, but comically so. Must be highly adept at the biting quip and the withering glare. Also plays MISS HETHERINGTON, and 4TH NEWSBOY. Vocal range F#3-A5
WOMAN #3 (Mid 20s –mid 30s). Plays MISS BARLEY, an alluring artist model. Also plays SIBELLA'S MAID, HYACINTH COLLEAGUE, PHOEBE'S MAID, HILDA. Vocal range G3-C6
MAN #1 (20s –mid 30s). Appealing and attractive. Plays TOM COPLEY (aka FARMER), as well as 2ND CLERK, HYACINTH COLLEAGUE, 2ND NEWSBOY, ACTOR, ANCESTRAL BUST, DR. PETTIBONE, and GUARD. High baritone with a strong top; solid A2-A4
MAN #2 (Early 30s–40s). A versatile and appealing character man. Plays DETECTIVE PINCKEY, who has a featured number. Also plays 1ST CLERK, PUB OWNER, MR. CROSS, 1ST NEWSBOY, 1ST ACTOR, PHYSICIAN, and 2ND ANCESTRAL BUST. Bass, C2 to G#4.
MAN #3 (Mid 20s–40s). A character man. Plays THE MAGISTRATE, as well as MR. GOODSALL, ACTOR, and MR. GORBY. THE MAGISTRATE has a featured number with DETECTIVE PINCKEY. True tenor. Bb2 –Bb4